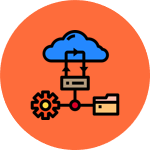 This section covers the common Oracle Database administration tasks. If you are an Oracle Database Administrator who wants to get grips with Oracle quickly and effectively, then this section is for you.
This Oracle Database administration section is also highly beneficial if you are a developer or project leader who is interested in knowing more about the Oracle Database system. It will enable you to work more closely and cooperatively with your Oracle database administrators.
Section 1. Oracle Database Architecture
Oracle Database Architecture – learn about the Oracle Database architecture and its components.
Oracle Listener – introduce the Oracle Listener and show you how to manage the Oracle Listener such as starting, stopping, and checking its status.
Section 2. Database Administrative Tasks
Section 3. Managing Tablespaces
Section 4. Users & Privileges
Section 6. User Profiles
CREATE PROFILE – describe how to create a user profile, which is a set of limits on database resource and password, and assign the profile to a user.
ALTER ROLE – show you how to modify the resource limit and password management in a user profile.
DROP PROFILE – show you how to delete a profile from the Oracle Database.
Section 7. Data Migration
Section 8. Database Links
Section 9. Useful Tips
Show tables – list all tables which are owned by the current user, accessible by the current user, or all tables in the Oracle database
Was this tutorial helpful?